Electric Storage and PV Software Applications
Increased client interest in market and individual customer electric storage technology and business case analysis are supported with several new MAISY Database and applications software products detailed on this page and with the links below.
Battery/Solar PV Products


MAISY Profiler Battery Storage Sales Assistant - Software analysis for battery and battery/PV markets and utility customers


Customer Segment Databases - Information on customer segments support product development and marketing strategy


ZIP Databases With Solar Data - ZIP data plus PV data and future PV installations forecasts.


Solar PV-Receptive Customer Leads - Model-based PV sales scores

Additional Material


White Paper: Reducing Commercial Battery/PV Customer Acquisition Costs and Sales Cycles


PDF Brochure: MAISY Profiler Battery Storage Sales Assistant


White Paper: Maximizing Competitive Advantage in Storage and PV Markets


White Paper: Utility Planning for Disruptive Solar PV Impacts

MAISY Battery Storage/PV Marketing and Sales Assistant Profiler
Overview
Profiler software can reduce customer acquisition costs by thousands of dollars per customer by
Identifying attractive individual sales prospects prior to customer contact
Qualifying customers in initial customer telephone or onsite contacts using customer information and Profiler-supplied utility rate structures, technology characteristics and 15-minute interval loads of matching customers drawn from the 7+ million MAISY utility customer database
Identifying new profitable market areas with Profiler interval loads, utility rates, and user technology characteristics for any residential or commercial customer segment in any ZIP code in the US
Introduction
Qualifying New Customer Interval Loads on First Contact. Marketing and sales costs tend to be extremely high in new technology markets. One reason for these high costs is difficulty in identifying market segments likely to provide the greatest customer value and the best business case for the technology. Even after identifying attractive market segments, individual customers within the segments must be evaluated to ensure that 15-minute electric loads, utility rates and technology characteristics align to provide a financially attractive application.
This market analysis/sales effort is illustrated on the right as a winnowing process where market segmentation and target marketing (step 1) identify the most promising general business categories followed by qualifying individual customers within those segments (step 2). The qualification process typically begins with one or more onsite sales calls, followed by obtaining electric load data from the utility and finally engineering design and analysis.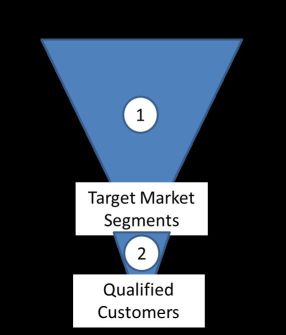 While interval load data for prospective customers is often accessible through the utility, these data are typically not available immediately or even for several weeks or months following initial customer contact resulting in significant expenditures on sales and preliminary system design for potential customers who turn out to provide little or no value for the storage or storage technology.
MAISY Customer Segment Databases and analysis provide information to support the first step while MAISY Profiler software described here provides an easy low-cost solution for qualifying potential battery storage customers.
The MAISY Profiler Battery Storage Sales Assistant can significantly reduce the cost of the second customer acquisition step. Designed for use during initial sales contacts, Profiler software uses limed potential customer characteristics to search the MAISY Utility Customer Databases, to identify and return 15-minute interval load data for customers with similar characteristics and to provide an immediate financial analysis based on likely customer electric loads, electric utility rate structures and storage characteristics. The Profiler can even accept available customer monthly electric billing information to calibrate interval load data. Profiler tables and charts provide easy-to evaluate individual customer business cases analysis and information including 15-minute interval data.
Profiler output tables and charts can also be applied in "Executive-Level" customer proposals to assist in the sales process.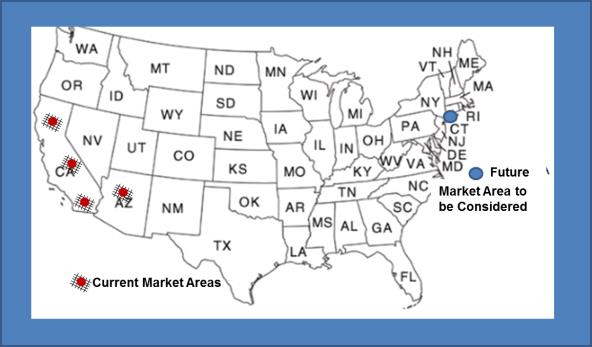 Considering New Markets and Customers Prior to Contact. In addition to providing preliminary customer-specific business case analysis on first customer contact, the Profiler can be applied to evaluate new customers and markets prior to actually engaging potential customers. The graphic at the right shows a company with a market presence in three utility service areas in California and one service area in Arizona with potential new markets in New York. Entering the New York ZIP code and building characteristics of interest (e.g., office building, 200,000 square feet), returns 15-minute loads and business case analysis for the specified customer type using utility rates for that ZIP code .
MAISY Profiler Battery Storage Sales Assistant
The MAISY Profiler Sales Assistant is designed to support marketing and sales staff by providing immediate evaluation and illustration of storage and or storage/PV systems financial benefits with limited customer information. Operating within an Excel workbook, the software does not require internet connectivity. The workbook format provides easy user customization and the ability to generate preliminary executive proposals to support sales efforts.
The Profiler Sales Assistant consists of an Excel Workbook interface that:
Accepts user building specifications including the ZIP code 00Identifies the electric utility serving that ZIP code and accesses the appropriate electric rate structure
Identifies buildings in the MAISY Utility Customer database most closely matching characteristics provided by the user, and
Returns the following information for the user-specified building:

15-minute interval kW loads for a year
Monthly electricity billing data based on customers loads and current service area rate structure
Electric rate structure details
Summary electric load profile information (monthly kWh, peak kW, etc.)
Standard Profiler Sales Assistant User Inputs. The standard Profiler user interface form allows the user to specify building characteristics with the following inputs:
Building type: medical office, bank, finance and real estate, general office, fast food restaurant, etc (see MAISY Building type at http://www.maisy.com/cvar.htm), or
SIC code or NAICS code (user will specify either building type or SIC/NAICS as a selection variable)
Location: ZIP code
Square feet (optional)
Employees (optional)
Electric space heating (Y/N) (optional)
Electric AC (Y/N) (optional)
Construction year (optional)
Building high winter, high summer electric bills and spring/fall electric bills (optional)
Extended Profiler Sales Assistant User Inputs. In situations where more detailed customer information is available the database matching process can be refined and extracted interval loads can be calibrated to actual customer billing data.
Daily operating hours for each day in the week (optional)
Office equipment/miscellaneous equipment characteristics (optional)
Number of stories(optional)
Billing Information as available (optional, for one to 12 preceding months)

Monthly kWh, peak kW for each billing interval in available months depending on the utility rate structure (e.g., kWh use in off peak, part peak and peak periods, monthly peak demand)

Other information as requested
Profiler User Inputs
Profiler Sales Assistant user inputs are used to match potential customer characteristics with utility customers in the MAISY Databases providing 15 minute load profiles that most closely reflect matching customers. The user form below shows a Profiler user input provided by the standard MAISY Profiler.
Extended Profiler inputs include the additional items identified in the previous section when more detailed customer data are available. For example, if the sales contact is able to obtain kWh and peak kW for billing periods in one or more month's electric bills, this information is used in the database extraction process and interval data development.
Extended Profiler inputs can include any of the variable data items maintained in the MAISY Utility Customer Databases (see MAISY Building type at http://www.maisy.com/cvar.htm).
Profiler Outputs
Profiler outputs are customized for each MAISY client. All Profiler applications include the following output result:
15-minute interval kW loads for an entire year
Monthly electricity billing data based on customers loads and current service area rate structure
Electric rate structure details
Summary electric load profile information (monthly kWh, peak kW, etc.)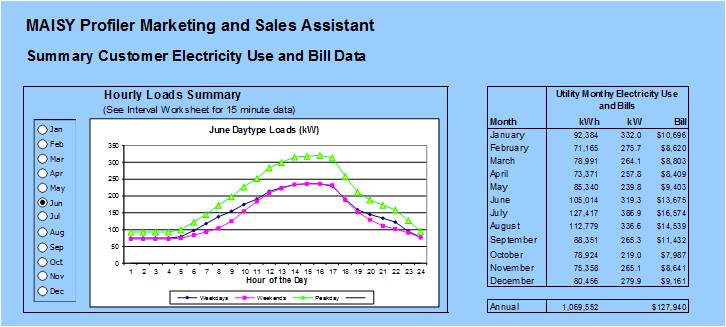 Profiler outputs also include client-specific technology evaluations including:
Peak leveling and peak clipping kWh potentials for each month
Peak demand reduction potentials for each month
Electric bill impact
Other client-requested analysis/presentations
Example output tables and charts are shown here.
Monthly summaries are calculated from interval loads. Interval load data are applied to utility rate structures to calculate monthly bills.
Technology impacts on maximum peak day load and kWh reductions for the peak day are presented. Additional data on number of days the storage system must be employed to achieve the peak demand reduction and other performance characteristics can be provided. Full year 15-minute electricity loads are presented for evaluation and application to client-provided analysis.