New: New Solar, Storage, ESCO ZIP-Level Data and Analytics Reduce Customer Acquisition Costs
Overview
Evaluating energy markets and utility customer energy use and has just become a lot easier for energy-related product and service providers.
Markets for all energy products and services are becoming more competitive putting a real premium on reducing customer acquisition costs. The new MAISY Utility Customer ZIP Profiler accesses MAISY Utility Customer Databases and provides analytics to help companies more accurately target ZIP areas and customer characteristics that best fit their offerings. Companies with different messages and target markets find MAISY ZIP market analytics especially useful for targeting and qualifying customers. We recently worked on storage, solar and solar/storage projects to provide this information in custom projects and decided to expand our product offerings to include this more analytics-based output for companies who are aggressively competing in these markets.
The ZIP Profiler provides market characteristics for ZIP code areas, metro area ZIP codes or all ZIP areas in states for any set of user-selected customer characteristics. Data include number of utility customers, average kWh use, peak kW and hourly loads, and customer characteristics. Residential customer characteristics include income, dwelling unit size, demographics and other variables while commercial characteristics include floor space, business type, employees, operating hours and other variables.
The Profiler provides information for three different applications:
ZIP-based Summaries. Selecting a ZIP code, combination of ZIP codes, metro area ZIP codes, or all ZIP areas in a state provides the number of customers and averages of all customer variables (e.g., annual and monthly energy use, hourly loads as well as income, demographics, etc. for residential and floor space, employees, etc. for commercial.


ZIP-based Segment summaries. Selecting a geographic area along with customer variable ranges (e.g., income > $100,000, floor space >20,000 square feet) provides customer counts and customer variable averages for customers in those segments.


Individual customer energy use. Selecting a geographic area along with actual customer characteristics returns kWh, kW and hourly loads estimates for that customer
The MAISY ZIP Profiler database/software product differs from existing MAISY products in providing a combination of the most useful customer variables and greater geographic coverage and granularity (any combination of ZIP code areas across the entire US in a single product. The ZIP-Database product is embedded in an Excel workbook making it easy for users to explore market and customer data results with familiar Excel commands and to link results with other software.

Example ZIP Profiler interfaces are shown below. Each client Profiler application is designed to include customer variables of interest to users.

The MAISY Profiler process is unique in allowing users to specify as few or as many customer or customer segment variable of interest. Any variable value left out signals the MAISY profiler process to ignore that variable in computing market, market segment or customer data. For example, if the heating fuel variable is not checked, the average electricity use of all customers regardless of heating fuel is provided. If single family is selected for dwelling unit type and all other variable selections are left empty, average values for income, dwelling unit size and other variables will reflect all single framily values in the selected geographies.

Customer variable ranges can be used to compute values for customer segments within selected geographies.
Specifying a single ZIP code and only one value for variables that offer ranges provides results for an individual customer matching those values.
Combinations of ZIP codes, all ZIP codes in a metropolitan area or all ZIP codes in a state can be selected.
Standard Commercial and Residential Interfaces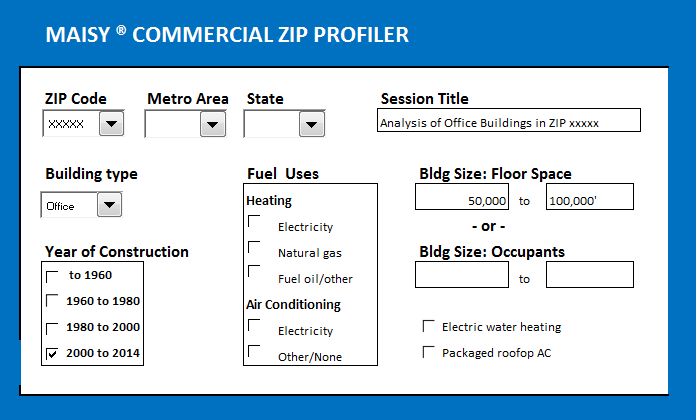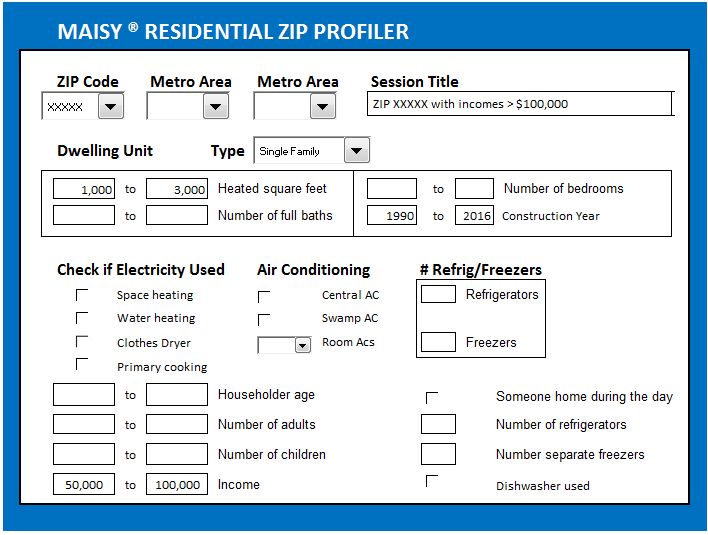 Analytics
The Profiler processes utility customer records in the selected ZIP code areas and provides average values for each customer variable along with average annual and monthly kWh, peak kW (where appropriate), and, optionally, hourly electric loads. Hourly loads are available as three day-type loads for each month in the year, 8760 hourly loads, or 35040 interval loads.

Other analytics output such as peak kW and kWh in time-of-use periods and other client-specified variables and metrics can be included.
Example output tables are shown below. Only ZIP code, building type, building size and construction year variables were specified in the user interface so results in this table reflect averages for buildings within that segment.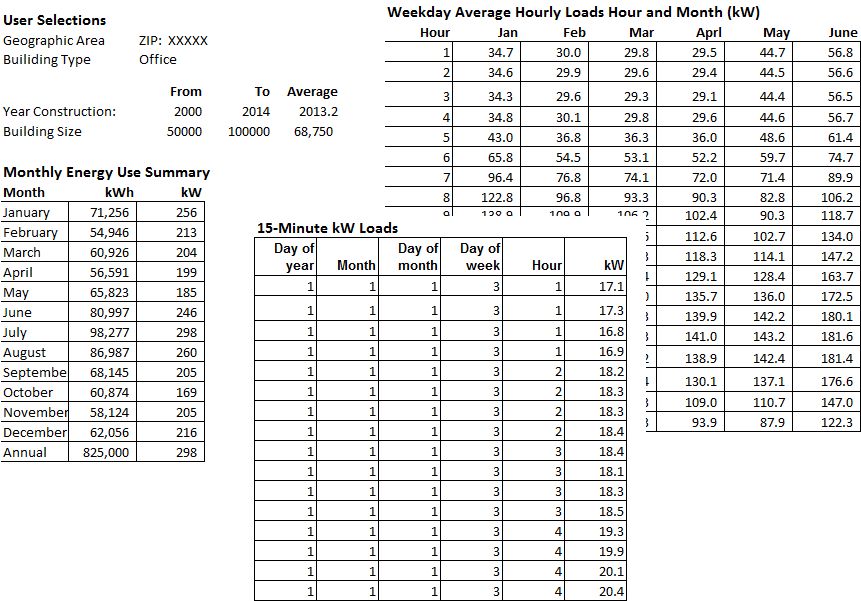 Contact Us to Discuss the MAISY Utility Customer ZIP Profiler
Jerry Jackson, President
Jackson Associates
37 N. Orange Avenue, Suite 500
Orlando, Fl 32801
407-926-4048
979-204-7821 (cell)
e-mail